Welcome to our end of year newsletter. We hope you have all achieved your goals for 2018 and are looking forward to the year ahead. Currently, two important issues are generating a lot of discussions, which are the impact of the Government's decree in respect of AJD tax and also the ongoing effects of Brexit.
Supreme Court & AJD (mortgage) tax
Last month, we wrote about the debacle of the Supreme Court's rulings on the issue of AJD tax. In the end, the Government stepped in and issued a decree to make it compulsory for banks to pay the tax and not property buyers. The tax varies from region to region, but is typically around 2%, so approximately €4,000 on a loan of €200,000. Many believe the new ruling could help boost the Spanish housing market.

We were interested to see how banks would react to having this additional cost thrust upon them. The majority of banks have already increased interest rates by between 0.25 – 0.5% and many have also increased the bank opening fee to the client by up to 0.5%. A small number of banks are honouring rates for those who had approvals prior to the new law coming into effect, but new applications are now subject to higher rates and costs. We are still able to offer excellent mortgage conditions to our clients, including products without life cover.
We were recently invited to meet the British ambassador to Spain, Simon Manley, to discuss the implications of Brexit. He informed us that the overriding message coming from regional and national politicians in Spain is that they want to attract more foreigners, including British, to come and live here. Spain remains a very popular country for expats to live and work and whilst we have definitely seen a drop in enquiries from British clients, there are still large numbers buying properties in Spain either as holiday homes or main residences. Once the outcome of Brexit is clear, we believe numbers will increase.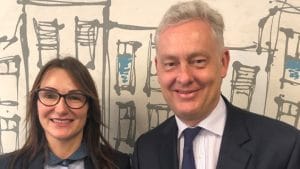 In view of the continued uncertainty around Brexit, the BBC recently speculated that the Sterling-Euro exchange rate may fall below parity (i.e. one pound would be worth less than one euro). Indeed, two of our clients who were due to complete on purchases have put them on hold until they feel the UK economy is more stable, including the value of the pound. At the same time, some clients see the AJD tax saving as an opportunity to buy now and we are still seeing many new enquiries and many purchases complete.
Andy Bridge, Managing Director of A Place In The Sun, supports this: "A Place In The Sun has seen a year-on-year increase of 7% in traffic since October 1. However, despite more people looking, there has been a slight dip of around 5% in visitors making a property enquiry. Brexit is clearly on people's minds, but there is still a large amount of interest in buying property overseas and once Brexit plans are made clear, we should see even more people looking to buy."
Maximum LTV
Up to 70 % for non-residents
Up to 80 % for residents
Variable interest rates
(non-residents)
From Euribor + 1.35% = 1.35%
Current Euribor -0.129%
Fixed interest rates
(non-residents)
From 2% for the whole term (20 years)
Terms up to 30 years
Mortgage products & process
For further information on mortgage products, please refer to our website. Our step-by-step guide also helps clients understand how the process works.
Mortgage quote
To receive a mortgage quote with no obligation, please complete our online form or contact one of our qualified advisers – please rest assured that all information is treated as strictly private and confidential.
Required documents & charges
In terms of the documents required, we do not need these to provide an initial quote. Please refer to our charges page, which gives an example of the costs involved in a typical house purchase. Depending on the area of Spain, clients should allow between 12-15% of the declared price to cover all fees and taxes.